I Woke Up This Morning
Sheldonize Automatically Schedules your to-dos on a Calendar
Oct 13, 2014
2 minute read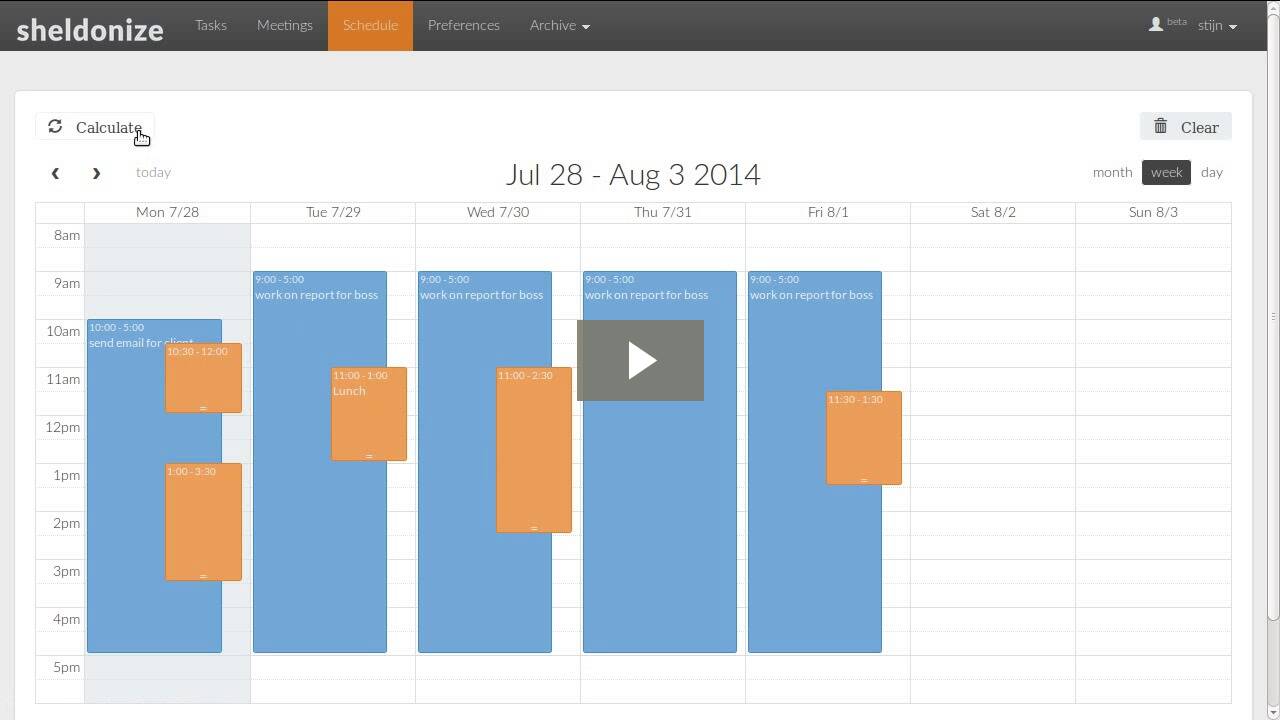 Web: Sheldonize is a task manager web app that automatically schedules your to-dos on your calendar. Traditional task managers are just lists. They require you to do all the hard work of manually planning your to-dos yourself. However, with Sheldonize that planning happens automatically: Sheldonize checks your existing meetings, and plans your work around them, while making sure deadlines for your tasks are met. The planning is completely flexible and happens with the click of a button, such that when meetings get shifted or more important stuff comes in, Sheldonize can quickly reschedule your work.
Some key features are:
You can indicate how long you think a task will take; that estimate will be taken into account by the scheduler
You can say that one task can only start after another task is finished such that in the calculated schedule work on that task will only begin after that other task's work is finished
You can indicate due dates on tasks such that the scheduler only plans work for that specific task before that due date
You can mark every task with A, B, C, or D priorities. Again, the scheduler will take those into account when planning your work (to-dos marked 'A' will be scheduled before to-dos marked 'B').
You typically focus your work by indicating whether to do tasks Today or This Week
An Inbox view allows you to quickly dump your thoughts in a list, without thinking of planning (as such it is useful for use with the Getting Things Done (GTD) productivity method)
There is a large Calendar view of your schedule (with daily, weekly, and monthly views)
You can create meetings and indicate whether they should repeat daily, every work day, weekly, every other week
You can automatically pull in your external Google Calendar meetings such that Sheldonize can take those into account when calculating a schedule
You can personalize the scheduling by indicating what your normal working times are (e.g., daily from 8AM to 5PM). Sheldonize will only schedule work within these times, allowing for a clean separation of work and life
An unlimited archive keeps all of your done tasks and past meetings for future reference
For each task that you mark as done Sheldonize puts a little marker on the Calendar indicating when that task was done. At the end of the week you get a beautiful visual of what you all accomplished during the week
Sheldonize comes with a 31-day trial and costs $3.99 per month for regular users after the trial is over. However, if you are a student or a teacher you can get the web app for a one-time fee of $9.99. Furthermore, during the 31-day trial you can get 7 extra trial days for every friend you manage to convince to sign up.